SSPI-WISE September 2022 OPEN Meeting Featuring Lori Garver
Registration for this event has passed
Join us for our next meeting to hear Lori Garver, former Deputy Administrator of NASA, and author of "Escaping Gravity: My Quest to Transform NASA and Launch a New Space Age," talk about the challenges she encountered as a woman in the aerospace industry.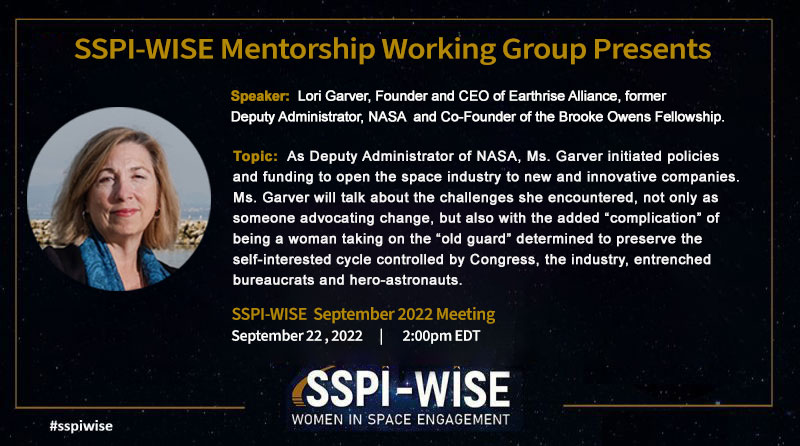 Ms. Garver initiated and drove policies that truly changed the face of the space industry. She was determined to break the self-interested cycle controlled by Congress, the aerospace industry, entrenched bureaucrats, and hero-astronauts, that favored jobs, contracts and profit over efficiency and innovation. As a result of her efforts, SpaceX, Blue Origin and Virgin Galactic among many others are now part of the industry. Unsurprisingly, doing so, resulted in her being regarded as a threat to the system and put her in the crosshairs of many in the old guard.
She is also one of the founders of the Brooke Owens Fellowship, which offers paid internships & executive mentorship for collegiate women and gender minority students in aerospace. Ms. Garver is the recipient of many awards including the 2020 Lifetime Achievement Award from Women in Aerospace and three Distinguished Service Medals.
The registration link will register you for all monthly meetings: July - December and to download a calendar for each meeting. If you registered in July or August, you do not need to register again.
SSPI-WISE monthly meetings are open to the women of the industry, as we contemplate ways to ensure women's participation and engagement in the industry.
To learn more about SSPI-WISE visit SSPI-WISE - Women in Space Engagement!
SSPI-WISE is grateful for the support of: